Product Activation
Starting with version 3.48, Sandboxie introduces the concept of online activation of Product Key.
To enter your Product Key:
Open Sandboxie Control. You can find it in your Windows Start menu, under the Sandboxie program group. Then, select the Help Menu and invoke the Register Sandboxie command.
This will open the Sandboxie License Manager: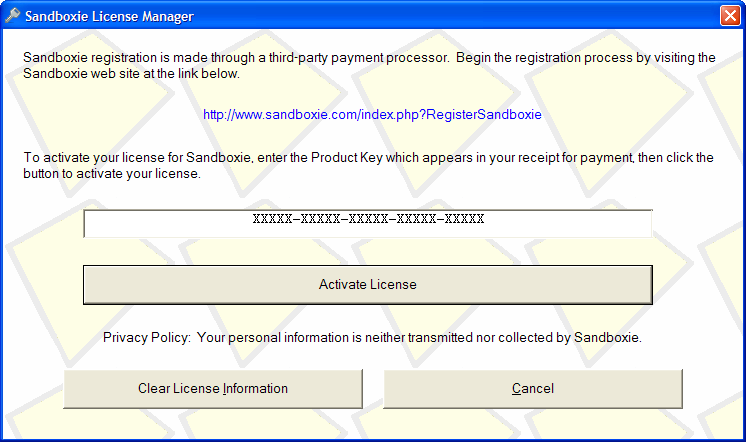 Enter your Product Key and then click the Activate License button.
The Sandboxie License Manager will connect to the Sandboxie web site, validate your Product Key and activate your license.
---
Note that an activated license is tied to a specific computer and version of Sandboxie, and is set to expire after some period of time. However, Sandboxie will automatically renew your license as necessary, without any action on your part.
The licensing terms for Sandboxie are not affected by Product Key Activation: The Product Key for a personal license can be activated on any number of computers that you personally own, whether physical or virtual computers.
Note that a system code which identifies a particular computer system is a one-way (non-reversible) unique hash generated from your current computer configuration. This system code cannot be reversed to deduce your actual hardware or to identify your system, except to differentiate it from other computer systems with different system codes.
---
You can change the default behavior and prohibit automatic reactivation of the license. To do that, enter your Product Key and activate your license. This should produce a pop-up window with the following checkbox at the bottom: In the future, activate the license without asking. Make sure to clear the checkbox before dismissing the window.
Note: If your Sandboxie configuration is locked, the checkbox will not be selectable. To unlock your configuration, please see Sandboxie Control > Configure menu > Lock Configuration.
---
Offline Activation
It is possible to activate the license on a computer that is not connected to the Internet. Please see Offline Activation.